Meet Us
At the Cross
Overlooking the city of Budapest, there is a cross, set high on the hill.
It is a constant reminder to us that the hope for Budapest is the cross of Christ, and that we need to bring our requests to the foot of the cross.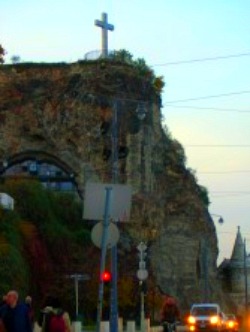 We invite you to join us in prayer and praise for the following:
Praise the Lord for ministry opportunities in Hungary.
Praise the Lord that Ed and Heather were able to obtain a place to hold Bible Studies each week.
Praise the Lord that progress is being made in getting permission to visit patients in another hospital.
Pray for wisdom as we share the Gospel and answer questions for several seekers.
Pray for the political situation in Ukraine.
Pray about new ministry opportunities and the possibility of expanding our ministries into Albania and Czech.
Pray for Maritza, Martika and Roza, who are attending our Bible Study in another city. Pray for Ana who opens her home and is a wonderful hostess each week.
Return from "Meet Us at the Cross" to "Hope for Eastern Europe"