Replacing Communism with Christ in Russia
The collapse of the Soviet Union in the early 1990's opened the door for Christian outreach into Russia and several other former Soviet countries.
In the fall of 1992, HIM announced plans to open a Christian Center in Vyborg with the intent to distribute Bibles and Christian literature to the thousands of people across the eleven time zones of the country who had never owned a Bible.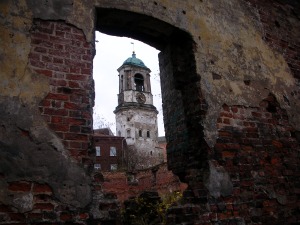 HIM has powerfully penetrated this ancient country through the dedicated efforts of missionaries, Richard and Judy Grout, along with a local staff of christians, who lead evangelistic and humanitarian outreaches to the poor and homeless as well as students and widows.
In another area of the country, Maude and Valera Motivilov have an outreach to orphans and a ministry teaching English. In this vast region, there are many opportunities for establishing church congregations and Christian centers through the effective means of summer camps, humanitarian aid, discipleship training and literature development and distribution.
We must do this quickly because there are signs that the doors to this country may be slowly closing once again! Please join us in our effort to reach the lost in the former Soviet Union!

Christmas in Russia

Return from 'Replacing Communism with Christ in Russia' to the Home Page