Hungarian Literature Outreach Project
Literature is a powerful way to impact people, and we are excited by the opportunity we have to use this tool to spread the Gospel in Hungary.
We are in the process of publishing the book, "Is God Really My Father?" by Dr. Connie Palm in the Hungarian Language. The book gives the simple Gospel message in about 50 pages, and it is beautifully illustrated.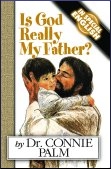 It has been translated into several other languages, and used effectively to impact people around the world.
We are currently working with a publisher who will be bringing the book to print for us, and within a few months we will have 2500 copies available for our use in outreach here in Budapest. Currently, the book is in the hands of a translator.
We are really excited about the possibility of getting this book, and its timeless message into the hands of hundreds of Hungarian people!

We are still needing a significant amount of funds to complete this important project.  Please donate to help make this project become a reality!

Christian Publishing Conference in Budapest
Recently, we had the privilege of attending a Christian Publishing Conference in Budapest, where several publishers and authors from various countries in Eastern Europe came together to network and share ideas.

We enjoyed meeting authors and publishers from Ukraine, Finland, Estonia, Netherlands, Slovakia and Hungary. One of the highlights was meeting a young Ukrainian author who wrote a book of short stories, Warm Stories for Coffee Time. It was chosen as the Christian Trade Association's 'Book of the Year' for Eastern Europe.

Return to 'Hope for Eastern Europe' from 'Literature'.