Christmas in Russia

Christmas or New Years?

After the 1917 Revolution, the Communists banned Christmas in Russia and the Soviet Union.  So, for 75 years, it was not celebrated as a religious or cultural holiday.  During that time the Christmas traditions were re-invented as New Years traditions.  In 1992, after the fall of the Soviet Union, Christmas was once again openly observed, however, many of the traditions have remained as New Years traditions.

The Christmas Meal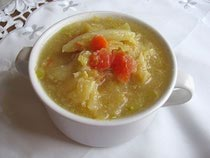 Christmas in Russia is celebrated on January 7th. because the Russian Orthodox Church celebrates in accordance with the old Julian calendar.  The celebration begins on Christmas Eve (January 6th.), when a fast is observed for the whole day until the first star appears in the sky.  Then, the fast is broken with the Christmas meal.  The family gathers around the table to honor the coming Christ Child.  They cover the table with a white tablecloth to symbolize Christ's swaddling clothes.  They scatter hay on the table as a reminder of the stable where Christ was born, and a tall white candle is used as a centerpiece, symbolizing Christ as the Light of the World.  Next to the candle, there is a large round loaf of bread which symbolizes Christ as the Bread of Life.  The meal traditionally consists of 12 different foods, symbolic of the 12 apostles.  The meal is meatless, but usually includes fish, sauerkraut soup, parsley potatoes, peas, kidney beans, nuts, figs and dates.

Grandfather Frost and the Snowmaiden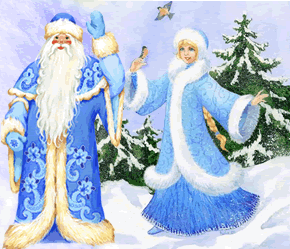 Grandfather Frost (Ded Moroz) is the Russian version of St. Nicholas.  He looks very much like the western Santa Claus, except he wears a blue suit.  He travels across the frozen ground of Russia in a 'troika', which is a sled drawn by 3 horses abreast.  He brings gifts to the children on New Years, and is accompanied by a young girl, the Snowmaiden (Snyegurochka), who helps him distribute gifts to the children.  The gifts are placed under a Christmas tree (or New Years tree) that is decorated with ornaments, homemade decorations, candy and fruit.
It is wonderful that Christmas is once again being celebrated in Russia, and that the Russian people can openly worship the Christ of Christmas!
Click here to read about Christmas in Hungary

Return to Home from Christmas in Russia