Christmas in Hungary
St. Nicholas (Mikulás) Day
The festive Christmas season in Hungary begins on December 6th. with a secular holiday when Mikulás makes his rounds on a horse-drawn sleigh, bringing gifts for the children. The children put their polished shoes on the windowsill and, if they were good, Mikulás will fill their shoes with candy. However, if they were bad, he will leave a bundle of dry twigs or switches in their shoes as a warning. Some children receive both candies in their shoes and twigs alongside, as a reminder to be good. Mikulás is similar to the American Santa Claus, because he keeps track of the good and bad deeds of children from all over the world.

Christmas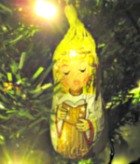 The festivities begin on December 24th, when the tree is put up and decorated. Children are often sent out to play or otherwise taken away from the home so the parents can set up the tree, decorate it, and place presents underneath. Children are not allowed to enter the room where the tree is until their parents give them permission. Sometimes, the parents ring a bell to signal that the time has come to see the tree. Usually, the family will eat their traditional meal of fish soup, with beigli for dessert before the father slips away and opens the door to the living room, where the tree stands, beautifully decorated with foil wrapped candies, glass balls, lights and tinsel. Children are told that angels or baby Jesus brought the tree and the gifts. They sing carols and open the gifts, and then many will attend a midnight church service.

The next 2 or 3 days are spent celebrating with family members in various homes and feasting on the traditional foods, such as roast goose, stuffed cabbage and beigli (a rolled sweet bread filled with walnuts or poppy seeds).

Budapest Outdoor Market

In the center of the city, on several large squares, small wooden huts are erected in late November. This creates a very festive outdoor market, where you can buy traditional Hungarian gifts, and eat Hungarian foods like cabbage rolls, sausage, goulash, potato dumplings, mezeskalach (decorated cookies) and beigli. There are plenty of tables where poeple can sit or stand and eat the food, or drink the hot fruit juice. The hot apple juice with cinnamon is particularly delicious and feels good on a cold winter Budapest day!

Click here to read about Christmas in Russia

Return to Home from Christmas in Hungary.